| | |
| --- | --- |
| | The Cave Church of St. Spas (Saviour) in Vishni |
---
The church is located about two km to the north-east from the village of Vishni, along the canyon of the river Sushica, at the place called 'Trpezite' (dining tables). It is set in a rock, which is about ninety meters high from the foothill up to the object, and the same has been conquered with a tiny path dug in the rocky terrain. Lately it has been improved with steps made of concrete and an iron banister.
A view of the church from outside.
The natural opening of the cave is located on the south side and it is closed in its lower part with a rock, in which the entrance door is positioned. Today there are only traces from the old temple made of wood. The present wretched condition of the fresco-paintings is due to the immediate influence of the atmospheric humidity, which during the damp periods of the year penetrates the interior and causes mechanical erosions.
In the apse there is a fresco of the Most Holy Mother of God, which for the first time ever has been signed as Spiliotisa, i.e. of the Cave, and belongs to the type Oranta, with the young Christ in her arms. And below her is the great composition the 'Liturgy of the Holy Archpreasts': St. Basil the Great and St. John Chrysostom. They are bowing to the Sacred Dining Table where the young Christ is lain. On the north side the Holy healers-doctors Ss Cuzman and Damian are painted and next to them are the Saints-martyrs: St. Marina, St. Tekla and St. Petka (Paraskeva).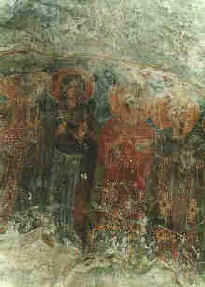 St. Nedela, St. Tekla, St. Kuzman and St. Damjan, a fresco from the church.
The unknown fresco-painter is shown to us here as a solid artisan who skillfully fits the figures into the uneven wall surface, which is also the reason why they don't lose much of the reality of the forms and proportions. A very realistic impression is achieved when the painted figures of these compositions are craftily transformed through one monumental form.
Summing up at the end the complete researches of this church until the present times, it can be concluded that a wonderful and by its specificity rare monument has been preserved, where the man-hermit, using the natural beauties, created a pleasant cult place to serve his needs.