| | |
| --- | --- |
| | The cave church of the Nativity in Kalishta |
---
For the church, a natural cave was used, in the Mokra mountain, an approach to which was never possible. However later, with the growth of the monastery complex, the approach was solved with wooden stairs. Most probably, the cave was originally intended as a sanctuary for a hermit, and later, in the times when at the shores of the Ohrid Lake the anchorite life and the religious life were best developed, this cave church was adapted to the today's architectonic form. This cave church is unique because there to the present day several monk's cells are preserved. The anchorites and the monks lived their lives in seclusion from the outside world , in continuous prayers, self-isolation and fasting.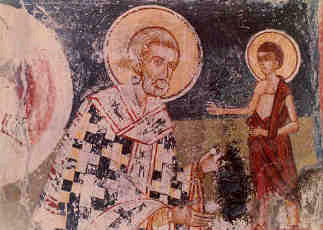 The vision of St. Petar of Alexandria, 14th century, from the church monastery.
From the entirety of the painting in this cave church we turn your attention to the Holy Medicine Man St. Panteleimon painted on the south wall with his teacher, Ermolai, who has christened Panteleimon and introduced him to the Christian religion, until, at the end, the both saints were jointly tortured and killed on 27 July 304. Of exceptional importance is the painted composition with the images of St. Cyril Philosopher and St. Clement of Ohrid. The composition depicting them both as they perform religious service turned towards each other, is a real rarity and first such example not only in Macedonia, but on the Balkan peninsula, as well. Ichonographically, this composition is unique not only in the post-Byzantine period, but in all the previous periods, as well. Finally, we will mention the portraits of the Holy Archangels: Mikhail and Gabriel, that are painted above the church entrance and besides in, that contain the old symbolics, known as early as the early Christian period - they are the keepers of the gates to the temple; the Archangel Mikhail with his sword, reminding the unfaithful and the sinful.
St. Ermolaj and St. Pantelejmon, 16th century, from the church monastery.
The cave church Nativity of the Virgin was maybe completely fresco-painted as early as the middle ages, a period when the anchorite life was well developed on the shores of the Ohrid Lake, which can be deducted from certain preserved fragments. But, it seems that the lower layer of frescoes was greatly damaged, which imposed the need of complete fresco-decoration of the church. The lack of written sources leads us to a more detailed analysis, especially of the typological characteristics of certain images, and thus we arrive to the conclusion that this fresco-painting of the anonymous Ohrid zograph should be positioned within a broader frame, starting from the first half of the 16th century, the times of the Ohrid Archbishop Prohor, and to the end of that century.
St. Simeon Stolpnik, 16th century, from the church monastery.
The Nativity of Virgin Marry (i.e., its birth), to which the church is dedicated, is celebrated on 8 September, old style, or 21 September, new style.